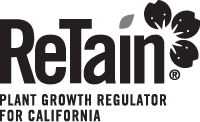 ReTain® Plant Growth Regulator for California
---
PGRs and Protectants
ReTain® Plant Growth Regulator for California increases nut and fruit set in almonds, walnuts and cherries to help ensure an optimum crop load potential. The naturally occurring active ingredient in ReTain works by reducing ethylene production in blooms thus delaying flower and stigmatic senescence. This effect results in flowers being viable longer, which allows more time for pollination to occur.

In addition, ReTain consistently increases nut set in walnut orchards that suffer from low nut set due to Pistillate Flower Abscission (PFA).
Product Benefits
Extends Pollination Period
Improves Crop Load Potential
Proven Technology for Fruit and Nut Set
For Walnuts, Increases Yield in PFA-sensitive Walnut Varieties
For Stone Fruit, Improved Fruit Quality and Harvest Management
Product Details
Crops*
Almond
Apple
Apricot
Aprium
Cherry
Sweet Cherry
Cucumber
Nectarine
Peach
Pear
Plum
Plumcot
Pluot
Prune
Walnut
* Each crop and use may not be registered in every state. Always read and follow label instructions.