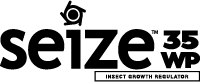 Seize™ 35 WP Insect Growth Regulator
---
Insect Control
Seize™ 35 WP Insect Growth Regulator provides long-lasting control of soft and armored scales including San Jose scale, Lecanium scale, black scale, walnut scale, brown soft scale and more. Seize works by affecting all life stages – it inhibits the development of early stages and disrupts the reproduction cycle by sterilizing adults. Seize is a perfect fit in IPM programs and is super selective and soft on beneficial insects.
Product Benefits
Unsurpassed Residual Control of Soft and Armored Scales
Season-Long Results
Easy on Beneficial Insects
Product Details
Crops*
Almond
Apple
Apricot
Azarole
Beechnut
Brazil Nut
Butternut
Cashew
Cherry
Sweet Cherry
Tart Cherry
Chestnut
Chinquapin
Crabapple
Filbert
Gooseberry
Amur River Grape
Hazelnut
Hickory
Fuzzy Kiwifruit
Hardy Kiwifruit
Loquat
Macadamia
Mayhaw
Maypop
Medlar
Nectarine
Peach
Pear
Oriental Pear
Pecan
Pistachio
Plum
Chickasaw Plum
Damson Plum
Japanese Plum
Plumcot
Prune
Fresh Prune
Quince
Japanese Quince
Schisandra Berry
Tejocote
Walnut
Black Walnut
English Walnut
Problems/Uses*
Dusky-Veined Aphid
Green Apple Aphid
Rosy Apple Aphid
Spirea Aphid
Walnut Aphid
Peach Twig Borer
Spotted Tentiform Leafminer
Western Tentiform Leafminer
Oblique-Banded Leafroller
Pandemis Leafroller
Codling Moth
Oriental Fruit Moth
Pear Psylla
Scale
Black Scale
Brown Soft Scale
Florida Red Scale
Italian Scale
Lecanium Scale
San Jose Scale
Walnut Scale
Whitefly
* Each crop and use may not be registered in every state. Always read and follow label instructions.