Elumin® Fungicide
DISEASE CONTROL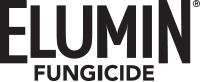 ---
Elumin® Fungicide
for Cucurbit Downy Mildew
Elumin® Fungicide is an oomycete fungicide that adds effectiveness to rotational spray programs to maximize crop quality and marketable yield. Elumin delivers excellent protection and residual control of downy mildew for cucurbits and Phytophthora for peppers.
Optimizes Fungicide Rotational Spray Programs

Stops Disease Spread Through Anti-Sporulant Activity

Provides Excellent Protection and Residual Control Through Locally Systemic Activity

Highly Translaminar for Upper and Lower Leaf Surface Protection
Problems/Uses*
Phytophthora Blight
Downy Mildew
Pythium Leak
Phytophthora
Phytophthora Crown Rot
Phytophthora Root Rot
Pink Rot
* Each crop and use may not be registered in every state. Always read and follow label instructions.
Key Crops*
Arracacha
Arrowroot
Chinese Artichoke
Jerusalem Artichoke
Balsam Apple
Balsam Pear
Calabaza
Edible Canna
Cantaloupe
True Cantaloupe
Casaba
Bitter Cassava
Sweet Cassava
Fruit Chayote
Root Chayote
Chufa
Cucumber
Chinese Cucumber
Cucuzza
Dasheen
Eggplant
African Eggplant
Scarlet Eggplant
Gherkin
Ginger
Ginseng
Edible Gourd
Hechima
Hyotan
Leren
Marrow Vegetable
Martynia
Bitter Melon
Chinese Preserving Melon
Citron Melon
Crenshaw Melon
Golden Pershaw Melon
Honey Ball Melon
Honeydew Melon
Mango Melon
Persian Melon
Pineapple Melon
Santa Claus Melon
Snake Melon
Momordica
Muskmelon
Okra
Chinese Okra
Pea Eggplant
Pepino
Bell Pepper
Non-Bell Pepper
Potato
Sweet Potato
Pumpkin
Roselle
Acorn Squash
Butternut Squash
Crookneck Squash
Hubbard Squash
Scallop Squash
Spaghetti Squash
Straightneck Squash
Summer Squash
Winter Squash
Tanier
Taro
Turmeric
Watermelon
Chinese Waxgourd
Yam Bean
True Yam
Zucchini
Show More

Crops
* Not all crops are registered in every state.
Sustainable Solutions Criteria – Elumin® Fungicide
Valent U.S.A. has developed a classification system that defines and identifies sustainable solutions across our ag product portfolio. This system, called our Sustainable Solutions Criteria, uses specific icons that highlight key sustainable practices and attributes of products. Click on the icons below to learn how Elumin® Fungicide can support sustainable practices in your operations.
Worker
Efficiency
Reduced
Food
Loss
IPM
Friendly
IPM Friendly
---
Reduces risk from pests within a science-based decision-making process that minimizes overall economic, health and environmental risks*
New mode of pest control action, and/ or proactive management of pest resistance, including fit within integrated resistance management programs
Exotic invasive pest control
Improved
Crop
Efficiency
Enhanced
Quality