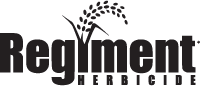 Regiment® Herbicide
---
Weed Control
Regiment® Herbicide controls yield-robbing broadleaf, aquatic and grass weeds. Regiment even controls barnyardgrass that is propanil- and/or Facet®-resistant.
Product Benefits
Controls Aquatics, Broadleaves and Grasses in Rice Production
Great Tank Mix Partner with Other Herbicides
Product Details
Crops*
Rice
Dry-Seeded Rice
Water-Seeded Rice
Problems/Uses*
Alligatorweed
Barnyardgrass
Facet Resistant Barnyardgrass
Perennial Barnyardgrass
Propanil Resistant Barnyardgrass
Bayonet Grass
Dayflower
Ducksalad
Eclipta
Rice Flatsedge
Gooseweed
Johnsongrass
Indian Jointvetch
Northern Jointvetch
Junglerice
Knotgrass
Mexicanweed
Entireleaf Morningglory
Pitted Morningglory
Pigweed
Redstem
Hemp Sesbania
Pennsylvania Smartweed
Texasweed
Water Hyssop
* Each crop and use may not be registered in every state. Always read and follow label instructions.