Regiment® Herbicide
WEED CONTROL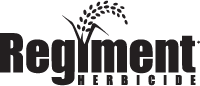 ---
Regiment® Herbicide
Control Aquatics, Broadleaves and Grasses in Rice
Regiment® Herbicide controls yield-robbing broadleaf, aquatic and grass weeds. Regiment even controls barnyardgrass that is propanil- and/or Facet®-resistant.
Controls Aquatics, Broadleaves and Grasses in Rice Production

Great Tank Mix Partner with Other Herbicides
Problems/Uses*
Alligatorweed
Barnyardgrass
Facet Resistant Barnyardgrass
Perennial Barnyardgrass
Propanil Resistant Barnyardgrass
Bayonet Grass
Dayflower
Ducksalad
Eclipta
Rice Flatsedge
Gooseweed
Johnsongrass
Indian Jointvetch
Northern Jointvetch
Junglerice
Knotgrass
Mexicanweed
Entireleaf Morningglory
Pitted Morningglory
Pigweed
Redstem
Hemp Sesbania
Pennsylvania Smartweed
Texasweed
Water Hyssop
Show More

Problems/Uses
* Each crop and use may not be registered in every state. Always read and follow label instructions.
Key Crops*
Rice
Dry-Seeded Rice
Water-Seeded Rice
* Not all crops are registered in every state.
SDS
Label
Technical Bulletin
Sustainable Solutions Criteria – Regiment® Herbicide
Valent U.S.A. has developed a classification system that defines and identifies sustainable solutions across our ag product portfolio. This system, called our Sustainable Solutions Criteria, uses specific icons that highlight key sustainable practices and attributes of products. Click on the icons below to learn how Regiment® Herbicide can support sustainable practices in your operations.
Worker
Efficiency
IPM
Friendly
IPM Friendly
---
Reduces risk from pests within a science-based decision-making process that minimizes overall economic, health and environmental risks*
New mode of pest control action, and/ or proactive management of pest resistance, including fit within integrated resistance management programs
Exotic invasive pest control
Improved
Crop
Efficiency