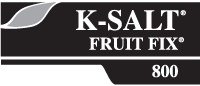 K-Salt® Fruit Fix® 800 Plant Growth Regulator
---
PGRs and Protectants
K-Salt® Fruit Fix® 800 Plant Growth Regulator is used for controlling pre-harvest drop of apples and pears and is an auxin hormone-type product powered by potassium salt of naphthaleneacetic acid. Apply by air or ground equipment.
Product Benefits
Harvest Management
Avoid Yield Loss from Premature Fruit Drop
Product Details
* Each crop and use may not be registered in every state. Always read and follow label instructions.