ReTain® Plant Growth Regulator Soluble Powder
PGRS AND PROTECTANTS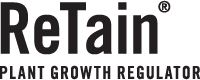 ---
ReTain® Plant Growth Regulator Soluble Powder
Run Apple and Pear Harvest on Your Schedule
Run apple and pear harvest on your schedule with ReTain® Plant Growth Regulator Soluble Powder. ReTain gives you more flexibility and control of your orchard by extending your harvest window up to four weeks. Whether you need to extend harvest one week or four, ReTain provides the flexibility to put you in charge of harvest. ReTain can now be applied at higher rates or up to two applications per acre per season to extend the harvest management period even further. This use pattern helps maximize your orchard's potential even further.

For cherries, ReTain increases fruit set to help ensure an optimum crop load potential.
Delays Maturation and Extends Harvest Window

Provides More Flexibility with Labor Management

Extends Drop Control

Maintains Late-Season Fruit Quality

For Cherries, Extends Flower Viability for Enhanced Fruit Set
Problems/Uses*
Harvest Management; Optimizes Fruit Maturity and Quality; Enhances Fruit Set
* Each crop and use may not be registered in every state. Always read and follow label instructions.
Key Crops*
Apple
Apricot
Aprium
Cherry
Bing Cherry
Chelan Cherry
Early Robin Cherry
Regina Cherry
Skeena Cherry
Sweet Cherry
Tieton Cherry
Cucumber
Nectarine
Peach
Pear
Pecan
Pineapple
Plum
Plumcot
Pluot
Prune
Walnut
Show More

Crops
* Not all crops are registered in every state.
SDS
Supplemental Label
Label
2EE
Sustainable Solutions Criteria – ReTain® Plant Growth Regulator Soluble Powder
Valent U.S.A. has developed a classification system that defines and identifies sustainable solutions across our ag product portfolio. This system, called our Sustainable Solutions Criteria, uses specific icons that highlight key sustainable practices and attributes of products. Click on the icons below to learn how ReTain® Plant Growth Regulator Soluble Powder can support sustainable practices in your operations.
ReTain® PGR Ebook
View this ebook to learn how to run apple and pear harvest on your schedule with ReTain. ~~ Valent would like to acknowledge the many contributions of the late Jeff Alicandro with Agr.Assistance included here. His work will have a lasting impact on generations of apple producers. Thank you Jeff. ~~