RyzUp SmartGrass® Plant Growth Regulator
PGRs and Protectants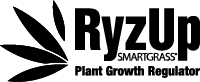 ---
RyzUp SmartGrass® Plant Growth Regulator
Maximize Your Silage or Forage Tonnage While Maintaining Quality
RyzUp SmartGrass® Plant Growth Regulator Water Soluble Granule is a naturally occurring plant growth regulator that promotes growth, maintains quality and improves silage and forage yields. RyzUp SmartGrass is ideal for use in corn silage production and on cool season perennial grasses and winter annual forage crops grown in conventional or organic operations.
Maximizes Silage Tonnage with No Quality Tradeoff

Compatible for Use with Other Early Season Pesticides and Foliar Fertilizers

Naturally Stimulates Early Season Growth

Promotes a Hardy Stand

Fit for Conventional and Organic Production
Key Crops*
Barley
Bermudagrass
TifDwarf Bermudagrass
Tifgreen Bermudagrass
Field Corn
Silage Corn
Annual Grass
Perennial Grass
Kale
Oat
Rape
Rye
Sorghum
Triticale
Turnip
Wheat
Show More

Crops
* Not all crops are registered in every state.
SDS
Supplemental Label
Label
Organic Certificate
Sustainable Solutions Criteria – RyzUp SmartGrass® Plant Growth Regulator
Valent U.S.A. has developed a classification system that defines and identifies sustainable solutions across our ag product portfolio. This system, called our Sustainable Solutions Criteria, uses specific icons that highlight key sustainable practices and attributes of products. Click on the icons below to learn how RyzUp SmartGrass® Plant Growth Regulator can support sustainable practices in your operations.
OMRI Listed
---
OMRI Listed® products are allowed for use in certified organic operations under the USDA National Organic Program and demonstrate that the product has passed OMRI's technical review and is compliant with organic standards.