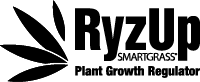 RyzUp SmartGrass® Plant Growth Regulator
---
PGRs and Protectants
RyzUp SmartGrass® Plant Growth Regulator Water Soluble Granule is a naturally occurring plant growth regulator that promotes growth, maintains quality and improves silage and forage yields. RyzUp SmartGrass is ideal for use in corn silage production and on cool season perennial grasses and winter annual forage crops grown in conventional or organic operations.
Product Benefits
Maximizes Silage Tonnage with No Quality Tradeoff
Compatible for Use with Other Early Season Pesticides and Foliar Fertilizers
Naturally Stimulates Early Season Growth
Promotes a Hardy Stand
Fit for Conventional and Organic Production
Product Details
Crops*
Barley
Bermudagrass
TifDwarf Bermudagrass
Tifgreen Bermudagrass
Field Corn
Silage Corn
Annual Grass
Perennial Grass
Kale
Oat
Rape
Rye
Sorghum
Triticale
Turnip
Wheat
* Each crop and use may not be registered in every state. Always read and follow label instructions.