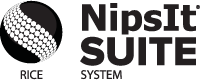 NipsIt® SUITE Rice System
---
Seed Treatments
Disease Control
Insect Control
NipsIt® SUITE Rice System combines multiple fungicide and insecticide modes of action to protect seedlings at early emergence and maximize yield potential.
Product Benefits
Broad Spectrum Protection
Smooth Flowability for Consistent, Even Application
Provides More Reliable, Systemic Control Over Competition
Product Details
Crops*
Barley
Sugar Beet
Buckwheat
Canola
Field Corn
Seed Corn
Sweet Corn
Pearl Millet
Proso Millet
Oat
Popcorn
Rapeseed
Dry-Seeded Rice
Rye
Sorghum
Soybean
Teosinte
Triticale
Wheat
Problems/Uses*
Aphid
Black Bean Aphid
Corn Leaf Aphid
English Grain Aphid
Yellow Sugarcane Aphid
Japanese Beetle Larva
June Beetle Larva
May Beetle Larva
Bean Leaf Beetle
Corn Flea Beetle
Flea Beetle
Red Flour Beetle
Rusty Grain Beetle
Southern Corn Leaf Beetle
Southern Corn Rootworm Beetle
Sugarcane Beetle
Southern Corn Billbug
Lesser Grain Borer
Black Grass Bug
European Chafer Larva
Chinch Bug
Cutworm
Black Cutworm
Black Granulate Cutworm
Hessian Fly
Grape Colaspis
Greenbug
White Grub
Grain Storage Insect
Leafhopper
Beet Leafhopper
Leafminer
Seedcorn Maggot
Sugar Beet Root Maggot
Indian Meal Moth
Corn Rootworm
Mexican Corn Rootworm
Northern Corn Rootworm
Southern Corn Rootworm
Springtail
Southern Green Stinkbug
Threecornered Alfalfa Hopper
Thrips
Pea Leaf Weevil
Rice Weevil
Rice Water Weevil
Wireworm
* Each crop and use may not be registered in every state. Always read and follow label instructions.