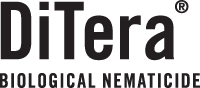 DiTera® DF Biological Nematicide
---
Insect Control
DiTera® DF Biological Nematicide Dry Flowable provides protection against plant-parasitic nematodes allowing for healthy root development, efficient uptake of nutrients and water, optimum plant growth and sustainable economic yields. DiTera improves plant vigor and quality and enhances soil microbes, giving added defense against all forms of plant damaging nematodes. Plus, DiTera fits into any crop system including conventional, sustainable and organic.
Product Benefits
Protects Against Plant-Parasitic Nematodes
Stops Nematode Damage and Enhances Soil Microbes
Promotes Healthy Root Development for More Efficient Uptake of Water and Nutrients
Farm-Friendly - Biological Product has a Short 4-Hour REI and OMRI Listed for Organic Production
Product Details
Crops*
Almond
Apple
Globe Artichoke
Asparagus
Avocado
Banana
Basil
Bean
Sugar Beet
Blackberry
Blueberry
Broccoli
Brussels Sprout
Cabbage
Cacao
Carrot
Celery
Seed Celery
Water Chestnut
Chive
Coconut
Coffee
Cole Crop
Cotton
Cranberry
Cucumber
Date
Dill
Seed Dill
Eggplant
Fern
Fig
Ornamental Flowering Plant
Ginseng
Grape
Grapefruit
Hop
Hosta
Kiwifruit
Lemon
Head Lettuce
Leaf Lettuce
Mango
Melon
Mushroom
Okra
Sweet Orange
Bed Ornamental Plant
Papaya
Pawpaw
Pea
Peach
Peanut
Pear
Pecan
Pepper
Black Pepper
Persimmon
Pineapple
Plantain
Plum
Potato
Radish
Raspberry
Soybean
Spinach
Squash
Strawberry
Sugarcane
Tobacco
Tomato
Turf
Walnut
Problems/Uses*
Burrowing Nematode
Citrus Nematode
Cyst Nematode
Dagger Nematode
Lance Nematode
Lesion Nematode
Needle Nematode
Pin Nematode
Reniform Nematode
Ring Nematode
Root-Knot Nematode
Spiral Nematode
Sting Nematode
Stubby Root Nematode
Stunt Nematode
* Each crop and use may not be registered in every state. Always read and follow label instructions.