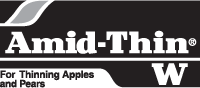 Amid-Thin® W Plant Growth Regulator
---
PGRs and Protectants
Chemical thinning optimizes fruit size and quality and is one of the most important seasonal applications in pome fruit, like apples and pears. Amid-Thin® W Plant Growth Regulator is easy on foliage and offers a wide margin of crop safety when applied at recommended concentrations.
Product Benefits
Optimizes Fruit Size and Quality in Apples and Pears
Easy On Foliage
Product Details
Problems/Uses*
Apple Thinning
Pear Thinning
Optimizes Fruit Size & Quality
* Each crop and use may not be registered in every state. Always read and follow label instructions.