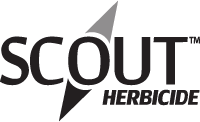 Scout™ Herbicide
---
Weed Control
Manage tough and resistant weeds throughout the season with Scout
™
Herbicide. Scout delivers fast, effective weed control and provides excellent postemergence control of glyphosate-resistant weeds. Scout
can be used on glufosinate-tolerant corn, cotton or soybean crops as well as specialty crops including berries, citrus, stone fruit and grapes.
Product Benefits
Unique Mode of Action for Fast, Effective Control of Emerged Weeds
Can Be Tank Mixed with Many Post-Applied Residual Herbicides
Product Details
Crops*
Almond
Apple
Apricot
Aronia Berry
Azarole
European Barberry
Beechnut
Sugar Beet
Highbush Blueberry
Lowbush Blueberry
Brazil Nut
Bush Nut
Butternut
Calamondin
Canola
Liberty Link Canola
Cashew
Sweet Cherry
Tart Cherry
Chestnut
Chinquapin
Citron
Hybrid Citrus
Commercial Building
Field Corn
Liberty Link Field Corn
Liberty Link Corn
Liberty Link Silage Corn
Sweet Corn
Liberty Link Sweet Corn
Cotton
Liberty Link Cotton
Crabapple
Highbush Cranberry
Black Currant
Buffalo Currant
Native Currant
Red Currant
Dry Ditch
Ditchbank
Educational Facility
Elderberry
Fallow Land
Farmstead
Fence Line
Along Fence
Filbert
Gooseberry
Raisin Grape
Table Grape
Wine Grape
Grapefruit
Japanese Summer Grapefruit
Chilean Guava
Hazelnut
Hickory Nut
Edible Honeysuckle
Hook. and Arn.
Huckleberry
Jostaberry
Juneberry
Kumquat
Lemon
Lime
Australian Desert Lime
Australian Finger Lime
Australian Round Lime
Brown River Finger Lime
Mount White Lime
New Guinea Wild Lime
Russell River Lime
Sweet Lime
Tahiti Lime
Lingonberry
Loquat
Lumberyard
Macadamia Nut
Mandarin
Mediterranean Mandarin
Mayhaw
Medlar
Nectarine
Olive
Orange
Sour Orange
Sweet Orange
Tachibana Orange
Trifoliate Orange
Parking Lot
Peach
Pear
Oriental Pear
Pecan
Pistachio
Plum
Chickasaw Plum
Damson Plum
Japanese Plum
Plumcot
Potato
Prune
Public Area
Pummello
Pumping Station
Quince
Chinese Quince
Japanese Quince
Recreational Area
Salal
Satsuma Mandarin
School
Sea-Buckthorn
Saskatoon Serviceberry
Shelterbelt
Soybean
Liberty Link Soybean
Storage Yard
Tangelo
Tangerine
Tangor
Tank Farm
Tejocote
Uniq Fruit
Black Walnut
English Walnut
Problems/Uses*
Alfalfa
Palmer Amaranth
Purple Ammannia
Spurred Anoda
California Arrowhead
White Heath Aster
Volunteer Barley
Barnyardgrass
Catchweed Bedstraw
Florida Beggarweed
Bermudagrass
Field Bindweed
Hedge Bindweed
Annual Bluegrass
Kentucky Bluegrass
Texas Blueweed
Downy Brome
Ripgut Brome
Smooth Brome
Wild Buckwheat
Buffalobur
Bulrush
California Burclover
Burcucumber
Burdock
Woollyleaf Bursage
Canarygrass
Volunteer Canola
Carpetweed
Soft Chess
Common Chickweed
Mouseear Chickweed
Cleavers
Alsike Clover
Red Clover
White Clover
Common Cocklebur
Hophornbeam Copperleaf
Virginia Copperleaf
Volunteer Corn
Volunteer Cotton
Large Crabgrass
Smooth Crabgrass
Tropic Croton
Woolly Croton
Cudweed
Woolly Cupgrass
Dallisgrass
Dandelion
Devilsclaw
Curly Dock
Smooth Dock
Dodder
Hemp Dogbane
Eclipta
Cutleaf Evening Primrose
Fescue
Fiddleneck
Filaree
Redstem Filaree
Annual Fleabane
Bristly Foxtail
Giant Foxtail
Green Foxtail
Robust Purple Foxtail
Yellow Foxtail
Hairy Galinsoga
Small-Flowered Galinsoga
Cutleaf Geranium
Gray Goldenrod
Goosefoot
Goosegrass
Field Gromwell
Cutleaf Ground Cherry
Common Groundsel
Guineagrass
Hempnettle
Henbit
Carolina Horsenettle
Horsetail
Poison Ivy
Java Bean
Jimsonweed
Rhizome Johnsongrass
Seedling Johnsongrass
Junglerice
Knotweed
Kochia
Ladysthumb
Common Lambsquarters
Miners Lettuce
Prickly Lettuce
Lovegrass
Common Mallow
Little Mallow
Venice Mallow
Malva
Marestail
Annual Marshelder
Mayweed
Black Medic
Smell Melon
Common Milkweed
Honeyvine Milkweed
Volunteer Proso Millet
Wild Proso Millet
Entireleaf Morningglory
Ivyleaf Morningglory
Pitted Morningglory
Sharppod Morningglory
Smallflower Morningglory
Tall Morningglory
Mugwort
Wirestem Muhly
Common Mullein
Turkey Mullein
Tansy Mustard
Wild Mustard
NA
Nettle
Black Nightshade
Eastern Black Nightshade
Hairy Nightshade
Silverleaf Nightshade
Purple Nutsedge
Yellow Nutsedge
Poison Oak
Wild Oat
Wild Onion
Orchardgrass
Fall Panicum
Texas Panicum
Paragrass
Pennycress
Prostrate Pigweed
Redroot Pigweed
Smooth Pigweed
Spiny Pigweed
Tumble Pigweed
Pineapple Weed
Plantain
Wild Poinsettia
Pokeweed
Puncturevine
Common Purslane
Florida Pusley
Quackgrass
Wild Radish
Common Ragweed
Giant Ragweed
Redmaid
Red Rice
London Rocket
Yellow Rocket
Wild Rose
Rubus
Toad Rush
Annual Ryegrass
Field Sandbur
Coffee Senna
Hemp Sesbania
Shattercane
Shepherdspurse
Sicklepod
Alkali Sida
Prickly Sida
Broadleaf Signalgrass
Pennsylvania Smartweed
Volunteer Sorghum
Volunteer Soybean
Sprangletop
Leafy Spurge
Prostrate Spurge
Spotted Spurge
Bristly Starbur
Stinkgrass
Sucker
Common Sunflower
Prairie Sunflower
Volunteer Sunflower
Swinecress
Annual Sow Thistle
Bull Thistle
Canada Thistle
Musk Thistle
Perennial Sow Thistle
Russian Thistle
Yellow Star Thistle
Chinese Thornapple
Timothy
Torpedograss
Wild Turnip
Vasey Grass
Velvetleaf
Vervain
Vetch
Common Waterhemp
Tall Waterhemp
Volunteer Wheat
Panicle Willowherb
Windgrass
Witchgrass
Woodsorrel
Biennial Wormwood
Common Yarrow
* Each crop and use may not be registered in every state. Always read and follow label instructions.